---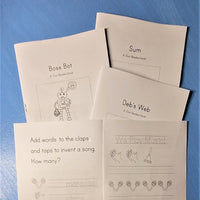 Books in the First Readers series are short cross-curricular books of fifty to one hundred words limited to the most common consonant and single vowel sounds used in longer and more complex sentences than books in the First Readers: Mini series. 
Titles in this bundle: 
Deb's Web: Deb's web is art.  Enjoy it from a far and practice counting the bugs she has caught too. 
Boss Bot: Will boss bot get back hen's eggs?
Sum: Three and one? Four's the sum! Practice basic addition with this fun little book. 
We Play Music: Get ready to tap along and be inspired to write your own music! 
This purchase includes a personal use license.  For group licensing please contact us. 
Happy reading!