---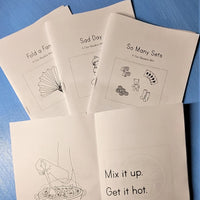 Books in the First Readers: Mini  series are texts of fifty words or less and spelling activities limited to the most common consonant and short vowel sounds. Each text includes math, science, heath or social studies extension activities. 
Titles in bundle B (54 print pages)
Let's Go: What will this girl find on her trip to the park?
Fold a Fan: Is it hot?  Want a rest?  Time to fold a paper fan!
Mystery Stew: What will you brew in your mystery stew?
So Many Sets: There are so many sets.  See how many you can find, and maybe even make some of your own. 
Sad Day: A boy learns that sadness isn't forever. 
This purchase includes a personal use license.  For group licensing please contact us. 
Happy reading!